After K-Pop, K-Drama, and K-Beauty, K-Fashion is ready to take over the world. It is trying to communicate the Korean emotion and global sense at the same time. MUNN, a South Korean clothing brand is ready to take the lead.
In the recently held 2020 SS London Fashion Week, a South Korean, Han Hyun-min did a solo show at the BFC Show Space, UK. Han is the first designer to hold a fashion show at BFC's official invitation. It was possible after the council signed an MoU with Seoul Design Foundation last may.
Seoul Design Foundation (SDF) and the British Fashion Council (BFC) are governmental public organizations run. Both countries, Korea and Britain, has the goal of revitalizing the countries' fashion industry.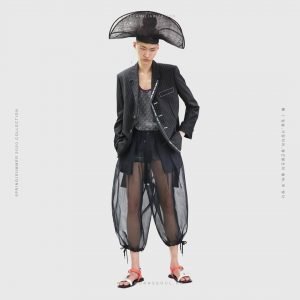 MUNN: a perfect combination of east and west
MUNN has a unique fashion philosophy summarized as 'defamiliarization'. It uses the combination of traditional patterns, the order and method of sewing, as well as material and concept. The many combinations create a freshly different look in every season.
The collection it brought to the London Fashion Week this time reflected the line of Hanbok. It livens up the details of the Korean traditional clothing including its collar, knot and pocket bags.
Han used Korean traditional materials of Hanbok such as ogagas and floral silk for the western styled clothes. Vice versa, he used modern materials such as ultra light nylon and waterproof fabric for his Hanbok designs.
With MUNN, Han opens up several pop-up stores in Paris, Milan, Hong Kong, and London. Starting off as a designer under SDF, Han's progress got the full support from the South Korean government.
K-Fashion industry has not grown as big as the other Korean trends. Although the K-Pop and K-Drama has been known for its aesthetic sense of fashion, Korean fashion brands are not as popular as the beauty brands.
This partnership of SDF and BCF might be a solution to bring more of the country's fashion brands to the surface.