Interpretation of Forex charts can be an overwhelming task for newbie traders.
There's a bunch of Forex charts traders use today, but in this article, we'll cover the three most popular: line, bar, and candlesticks. These three are generated using the same price data but are presented in different ways. With these varying displays, traders must use different technical analyses to make sense of these charts.
A proper analysis of each one will enable you to make better decisions.
Line Chart
A line chart is the easiest chart to follow among the three. It basically draws a line from one closing price to the next closing price. Though it does not provide a complete story, it's good for viewing at a glance for traders.
Another plus side of a line chart is that it reduces the choppy movements in different colors as seen in the bar and candlestick charts. What it only displays is a neutral color, like blue, that may help traders manage their emotions during trading. Yes, even colors make an impact on trading.
Here's an example of a line chart for EUR/USD:
Bar Chart
A bar chart displays more detailed information than the line chart by showing the high, low, open, and closing (HLOC) for each period designated for the bar.
How to make sense of the bar chart?
The high and low prices for the bar are the ones that create the vertical line. While the dash to the left of the bar is the opening price and the dash to the right is a signal for the closing price.
A trader will know if the market is bullish or bearish when the bar rises into a green or sinks into a red.
Here's an example of a bar chart for EUR/USD:
Candlestick Chart
This unique-looking chart displays the high, low, open, and closing for each period dedicated to each candle. The opening and closing prices are represented by the 'body' of the candle while the high and low prices for each period are displayed by the 'wicks'.
A dominant number of charting packages use green and red colors as their default colors. So what does green represent? It reflects the price closed higher when it's opened. How about the red color? It shows the price closed lower than when it opened. Green candles are called bullish candle while the red ones are called bearish candle.
Here's an example of a candlestick chart for EUR/USD: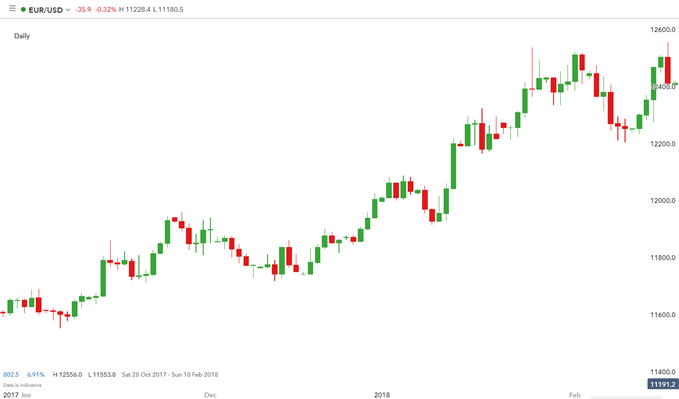 Also read: The Martingale Strategy in Forex Trading